Play for the day
Our indoor play areas at our Wayzata MN facility feature durable, soft, anti-fatigue flooring that is both gentle on our pet guests' feet and is easy to clean up. The rubberized quality of this flooring ensures that stress on your pet's joints, feet, back and muscles is kept to a minimum.
A clean play space is a safe and healthy play space, and one of the additional benefits of our seamless rubber flooring is that it is extremely easy to clean and sanitize. Our play areas are cleaned and sanitized daily with our Cyclo Vac® Wet/Dry Total Central Vacuum, a system found in state-of-the art veterinary facilities.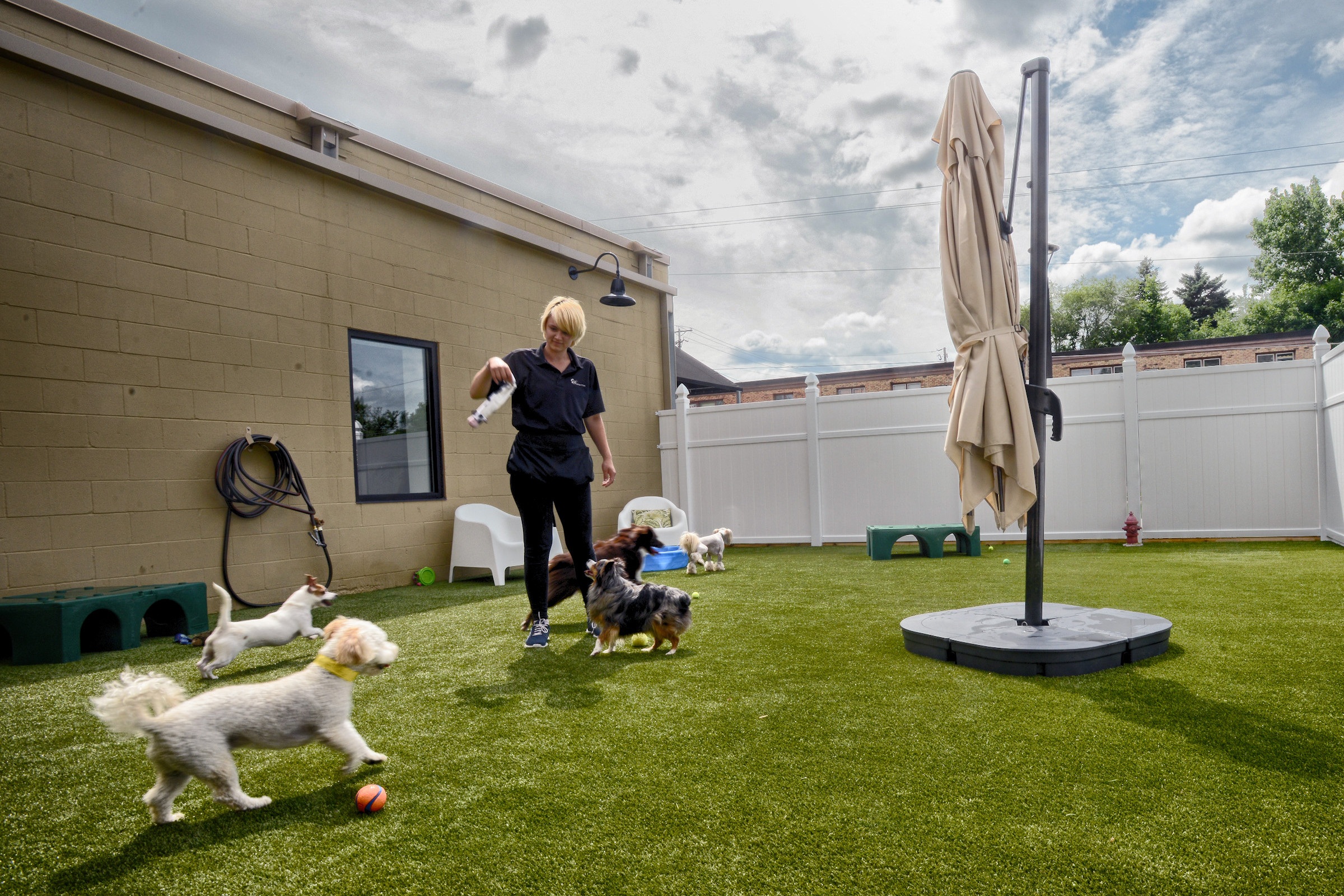 Hours and information
Daycare Service is offered Monday through Friday, from 7:00am to 6:00pm, and on Saturdays between 9:00am and 5:00pm. There is currently no a-la-carte daycare offered on Sunday. The Woofington recommends scheduling your doggie daycare experience well in advance, in order to guarantee availability in our playroom.
Our play area is equipped with high resolution webcams so that our pet parents can look in on their little loved ones throughout the day and check on their progress with their playmates.
Have Questions?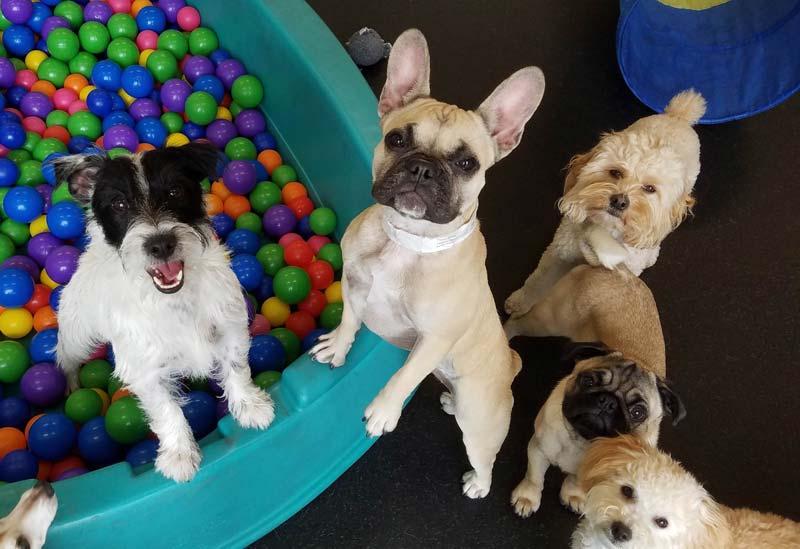 Daycare activities
The Woofington offers a wide array of doggie daycare activities for our guests in order to keep them entertained and engaged throughout their stay with us. Prior to entering any of our play groups, each pet guest is temperament tested to ensure the best possible playmate pairing. Features of our Daycare Service include pet-friendly indoor play equipment, impact resistant rubberized flooring, peaceful music, customized playgroup activities, plenty of exercise, and a relaxing daily naptime.
Get Scheduled
Enrollment
Dog care is our priority, so before your doggie daycare experience begins, each pet must be current on all of their vaccines prior to being introduced to the Woofington's playgroups. Bordetella shots must be administered by your vet at least 14 days prior to participating in Woofington Daycare. Bordetella nasal treatments must be administered by your vet at least 4 days prior to participating in Woofington Daycare.
All dog daycare guests must complete our mandatory Trial Visit & Pet Evaluation prior to participating in Daycare at the Woofington. All daycare guests must be aged 4 months, or older. And, all daycare guests greater than 6 months in age must be spayed or neutered. You may schedule your Pet Evaluation by calling our hotel lobby at (952) 471-1070. The Pet Evaluation is complimentary to prospective new guests, and is conducted to ensure the safety and comfort of all of our daycare participants.
View Forms
Daycare Rates
Pricing updated January 1, 2022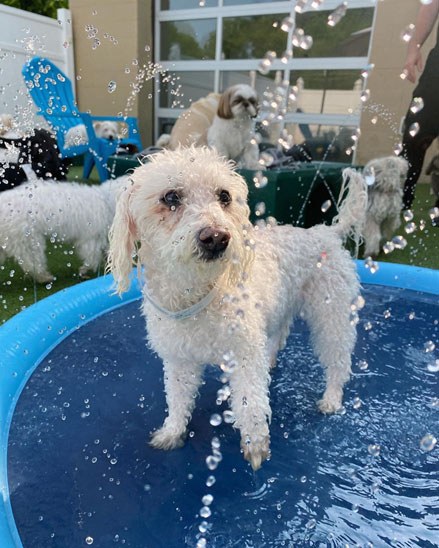 Early drop-off & late pick-up
There are no options for Early drop-off or pick-up at Woofington prior to lobby opening hours.
Late drop-offs and pick-ups on weekdays between 6:00pm and 7:00pm will incur a $20 fee per pet guest. Late drop-offs and pick-ups on weekends between 5:00pm and 6:00pm will incur a $20 fee per pet guest.
If dog Daycare participants are not picked up by 7:00pm on weekdays, or 6:00pm on weekends, then a standard boarding rate fee will be incurred to allow for overnight boarding of the pet guest. Rates will depend on current suite availability for the overnight guest. For a complete listing of overnight dog boarding rates, please see our Lodging rates listed here.
Day Stay Option
Day Stay is an option for pet guests who desire on-site care and comfort during the Daycare hours of operation, but are unable to interact with other pet guests during their visit. The Day Stay is an excellent option for pets that may be excessively shy, pets that have recently undergone medical procedures, pets that like a little more privacy, or for those pets that may simply not get along with other pet guests.
Day Stay guests at the Woofington are treated to one of our available suites for the day, and are let out for frequent relief breaks.
Day Stay option depends on the availability of suites not being occupied by our Overnight guests.